EGStoltzfus Named General Contractor for The Woods Apartments
Posted: 12/4/17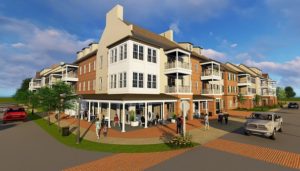 EGStoltzfus has been selected general contractor for The Woods Apartments, the newest phase of residences at Warwick Woodlands. Warwick Woodlands is part of Moravian Manor, a CCRC community in Lititz, PA that offers retirement living and senior care.
Groundbreaking for The Woods took place on November 1. Andy Dula, COO/CFO for EGStoltzfus, spoke at the ceremony.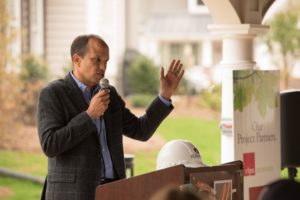 "EGStoltzfus looks forward to working with many great partners on this exciting and creative project. Our wish is that Warwick Woodlands becomes a source of community for its residents, and that the construction of new homes at The Woods will enable neighbors to care and support each other in ways that are life-giving and enriching," shared Dula.
The Woods includes 54 apartment residences and the Oaks Campus Center, which is home to several unique community spaces that are all under one roof and offer plenty of opportunities for residents to easily meet up with their friends and neighbors.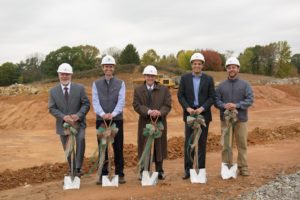 There are seven available floor plans for The Woods residences, ranging from 1,040-1,944 square feet. The one-bedroom and two-bedroom residences include a variety of features including open concept living, fully appointed kitchens, laundry rooms, master bedroom suites and baths, powder rooms and laundry rooms. Larger floor plans also include a den/home office area and patio/balcony. All residences include secure underground parking.
The Oaks Campus Center will be centrally located in The Woods and offers several common spaces. The Center features The Owl's Nest Restaurant & Sippery which will serve a variety of daily menu items. The Fireside Lounge will be adjacent to The Owl's Nest and includes lounge seating for before/after dinner gathering and private parties.
Other common areas that are part of The Oaks Campus Center include the Hall of Fame room with a large-screen TV for game-day gathering; the SmartFit Studio which will serve as headquarters for The Woods' wellness program; and the Tree Top Terrace – a rooftop garden patio that will feature seating, a grilling station and 360-degree views of the community.
The Woods project utilizes green design elements including low V.O.C. building products and finishes in the construction of both the residences and the Oaks Campus Center.
Reservations are still being accepted for a few remaining apartments at The Woods.
Click here to view The Woods' live construction web cam, courtesy of Moravian Manor.
Click here for a 360-degree view of the construction site, courtesy of DH Funk & Sons.