Keppel Building Ready for Its Debut
Posted: 3/14/17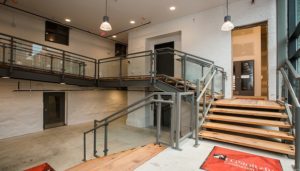 EGStoltzfus team members recently completed a final walk-through of the Keppel Building, one of downtown Lancaster's newest revitalization projects. The commercial division of EGStoltzfus served as general contractor for the historic mixed-use property.
Photos from the walk-through can be viewed on our Facebook page.
Located in the 300 block of N. Queen Street, the Keppel project showcases the transformation of a four-story and adjacent three-story building into mixed-use retail, commercial and residential space. Constructed in 1913 by prominent Lancaster architect C. Emlen Urban, the property was once home to the Keppel Candy Company, which operated in the space for decades until closing in the late 1980s. More recently, the building was home to The Candy Factory, a popular coworking space which moved to a nearby N. Queen Street address in 2014.
Contemporary Apartments, Historic Charm
The Keppel Building is now home to 38 one-bedroom and two-bedroom apartments with modern amenities that pay homage to the building's rich history. The model unit features wood and mechanics from the original Keppel Co. elevator shaft, and some of the building's original windows are preserved in certain units.
Apartment amenities include open floor plans, modern kitchens with stainless steel appliances, hardwood floors, exposed brick, skylights in select units, and large windows with lots of natural light.
Several apartments have already been rented and the first tenant moves in March 15th.
Commercial Leases Available
Office, retail and commercial space is available on the first floor of the Keppel Building. There are units at the front of the building, facing N. Queen Street, as well as rear-building units. Three boutiques are confirmed to move in over the next several months, as well as an architectural firm. Additional commercial/retail units will be announced.
Learn More
For additional information on residential apartment leases or to schedule a tour, contact Hometown Property Management Services. For information on available commercial leases, contact PPM Real Estate.
And don't forget to visit the Keppel Building photo gallery on Facebook!